Join us for an Hour of Comedy with Jon Allen & Friends featuring:
Jon Allen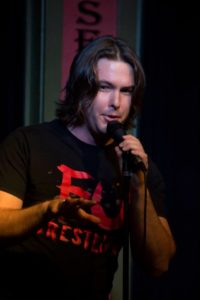 2016 San Diego Film Award "Best Actor" nominee and winner of the 2014 "I'm Funnier Than" Comedy Contest, Jon has always had an interest in story-telling and making people laugh.In the world of anime he's lent his voice to many unique characters, including Mori on "FLCL Progressive," Alessi in "JoJo's Bizarre Adventure," Zack in "Gundam: Iron Blooded Orphans," Binolt, Kazsule, and Number Zero on "Hunter X Hunter," Edano, Takkeda, and Bandai in "Mob Psycho 100," The MC in "Kakegurui," and even the Pink Hat Guy in "Dragonball Z." You may also have heard him as the voice of Jarvis, Smooth Jarvis, Rugged Jarvis, and H8 Squadder in "Pain" on the Playstation Network, which also included voice-overs from celebrities such as David Hasselhoff, George Takei, and Andy Dick. Other video game voice credits include such titles as "Warhammer Tactics," "High Velocity Bowling," "Jack Keane," "Elvira's Monster Stack 'N Match," and many others. On television he's been seen in the series "The Ex-List" Comedy Central's "My Profile Story," "Know Your Meme," "You Can Do Better" on truTV, and stars as Ryan Wyatt in the upcoming series "The Castmembers," an episodic comedy series depicting the hi-jinks and struggles of working in a movie theater. In addition to his acting and comedy pursuits, Jon also regularly contributes to the world of pro-wrestling, currently performing as "Jonald Trump" on Freakshow Wrestling in Las Vegas, and as "Ricotta Flair" on WWE star Brian Kendrick's comedic "Wrestling Pro Wrestling" in Los Angeles, CA. He also streams on the popular new app "Unlocked."
Website: http://www.JonAllenComedy.com
Facebook Fan Page: http://www.Facebook.com/JonAllenVO
Twitter: @KingJonAllen
Instagram: @TheJonAllen


Julian Michael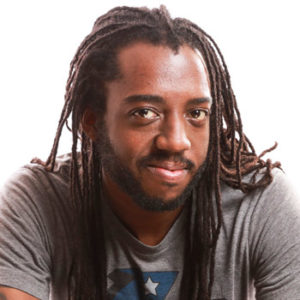 Julian Michael is an incredibly likeable guy who says horrible things about everybody. A self-described "token minority," Julian was on his way to becoming a Baptist minister before he discovered how hilarious and gay he is.
For the last 10 years, Julian has brought unfiltered laughter to audiences of all backgrounds, even though he fits in with none of them. In 2017. Julian signed with Uproar Records, the same label responsible for 12 Richard Pryor albums among other great works and recorded his live comedy album, Insert Token, to a standing ovation at the Comedy Underground in Seattle. It can be heard on Sirius XM (Kevin Hart's LOL Radio and Raw Dog Comedy) and is available everywhere music is sold.
Julian recently made his big screen debut as a writer and performer in "Out on Stage: The Movie", a feature film highlighting the diversity and talent within gay comedy. Optioned writer, stereotype buster, recovering acappella singer, Julian lures audiences in with his laid back style, then takes them on an unexpected but always hilarious journey.
https://www.doubleminorityreport.com
http://www.facebook.com/spokenbytoken
http://www.twitter.com/spokenbytoken
http://www.instagram.com/takenbytoken


Daniel Magden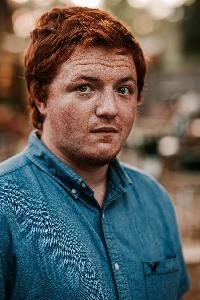 Daniel Magden is a twenty one year old comic from Dallas Texas. In his three years of stand up, Daniel has performed at clubs and colleges throughout North Texas and Colorado, and has worked with several nationally touring headliners. Daniel is also unsure weather this bio should be in third person or not. If not, this would all sound like the ramblings of a narcissist, which there is no evidence that Daniel isn't.
http://www.twitter.com/magdendaniel




Ryan Talmo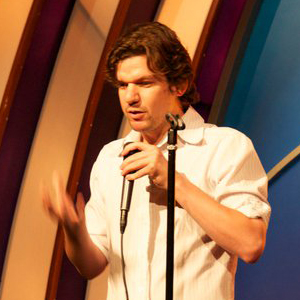 Ryan Talmo is an LA based comic. He has performed all over the United States, from bars to clubs. He has also recently finished recording his first Comedy Album "My Lymphoma", where he battled blood cancer and performed around his illness. You can find him host and produce his weekly comedy show "Tarzana Underground" in the Valley and his monthly vlog "Talking Shop with Talmo". He is the founder of Valley Jesus Productions which produces comedy shows, short films and local art that is located in the San Fernando Valley.
You can follow him on Facebook!
https://www.facebook.com/talmocomedy/
| | | |
| --- | --- | --- |
| Industry Panel | Time | Location |
| Jon Allen & friends | Sat, 10/27/18, 7:00 – 8:00 PM | LP1, GLENDALE BALLROOM 1-3 |
| Autographs | Sat, 10/27/18, 8:00 – 9:00 PM | AUTOGRAPHS, FOYER |