Chat sessions are currently being sold for November 23, 27, 28, and 29.
Kevin "Shazam" Li is an actor, dancer and choreographer. Originally from Hong Kong, he moved to Vancouver in 2009, where he currently resides. He is best known for his hand choreography work on the SyFy Channel's TV series "The Magicians". Kevin's most recent work can be seen on Apple TV's premiere series "SEE". Where, under the direction of movement director Paradox Pollack, Kevin has lent his talents as a movement researcher, choreographer, and coach.
Kevin got his start in dance in 2009 by joining SOULdiers, a Vancouver based training company that focused on hip hop and other street dance styles. After three years, he went on to explore a hybrid style of prop and tutting dance with the Vancouver circus community. Later on, he joined Technicru to train in the animation dance style.
In 2014, Kevin took a leap of faith and joined Modus Operandi, a Vancouver based contemporary dance training program. Despite having zero contemporary dance experience, directors Tiffany Tregarthen and David Raymond appreciated his street dance abilities and gave him a chance. The four year professional development program focusing on technical, artistic, choreographic and collaborative skills prepared him for a wide breadth of work in dance and movement.
Kevin has always been interested in different types of dance and art. But he is especially fascinated by the unique results created through the intersection of different forms, styles, elements, and cultures. He will continue to explore and innovate through his craft, with the hopes of discovering compelling ways to bridge these distinctive elements together.
Paid One-To-One Chat Sessions
Do you have a specific "spell" from the show that you've always wanted to learn? Have you ever wondered what spells that didn't make it on screen, might look like? Do you have a specific question you would like answered by THE spells creator for the show? Well great news, now you can!
Kevin is offering one on one Zoom time in five (5) and ten (10) minute increments. $20 USD for five (5) minutes and $30 USD for ten (10) minutes. A majority of the proceeds will go towards Kevin's chosen charity of Black Lives Matter Global Network Foundation. Fans can purchase Chat Session packages on our Eventbrite page. More than one package may be purchased for more time. Quantity is limited, so secure your slot soon!
Chat sessions are currently being sold for November 23, 27, 28, and 29.
How to Purchase
To purchase a fan experience go to our Eventbrite page here: https://www.eventbrite.com/e/pacific-media-expo-2020-personal-experiences-registration-130217707669 (please note that this URL recently changed)
Click register.
Find the package you'd like to purchase.
Check out.
Our staff will email you a link to the scheduled Zoom once your purchase has been confirmed.
Free Live Panel Description

Take part in a free live panel with our industry guest Kevin "Shazam" Li. Kevin is best known for his work as the spells creator (choreographer) for SyFy Channel's "The Magicians", based on the bestselling novels by Lev Grossman. You may also recognize him on-screen as "Professor Li" in the show.
Join us as we discuss his work on "The Magicians", including his spell crafting process and his favorite moments. Maybe he'll even teach us a "spell" or two! Hosted by Tiffy Wang (IchigoTofu), this panel is bound to bring some "magic" into your life!
Panel Details
The panel will be streamed live on Twitch on November 21, 2020 at 3 p.m. Pacific time. Fans can submit their questions beforehand through Google forms here. Questions will also be accepted during the live stream through chat.
Panel: Saturday, November 21

Time

Saturday, November 21
3PM-4PM
Panel

"Q&A with Kevin 'Shazam' Li"
hosted by Tiffy Wang (IchigoTofu).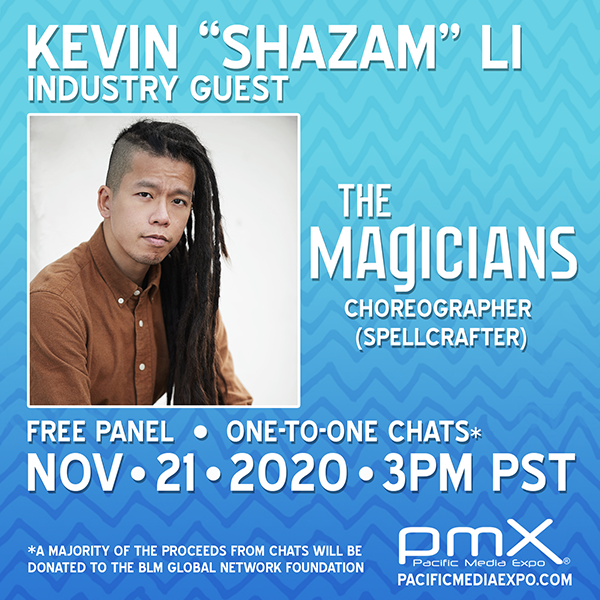 Social Media Links