Stephanie Yanez is an Anime/Jpop artist who has been touring the US and Japan since she won AX Idol at Anime Expo and is known for releasing an original song "Ultimate Miku World" with Hatsune Miku for gaming site TinierMe. Stephanie has released numerous original albums and cover albums in Japanese and English which are all on iTunes, Amazon, Spotify, etc. She is also a TV/Internet personality and was seen on TV as the Tokyo Reporter for Anime Select's Comcast On Demand documentary and series "Crazy Sexy Tokyo".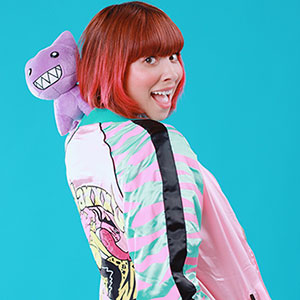 Stephanie also does runway/print modeling and collaborates with many Japanese and American companies on various projects. She has worked with TinierMe, San-X, Crypton Future Media, galaxxxy, Sanrio, Aniplex, Geneon, IVE Sound, Broccoli, Gcrest, Victor Entertainment, Ingram, Her Universe, Hot Topic, Level-5, Nintendo, Yokai Watch, Loot Crate, GKIDS, Universal Home Entertainment, Viz Media, Tokyopop, Anime Selects, Comcast On Demand, ACDC Rag, Listen Flavor, Tune in Tokyo, NX on Netflix, Care Bears, Popkiller, Atsuko, Carpool Karaoke The Mic, Creatorsguild, etc.
Come and see Stephanie Yanez during PMX weekend, November 21 & 22.
Time

Sunday, November 22
3PM – 3:30PM
Performance

Stephanie Yanez Anisong/Jpop Music Performance