Release Form
All attendees who want to participate in this event must submit a release form confirming their age to be 18+. Only those who have submitted the form will be given the link to the ZOOM. Links will be sent out an hour before the show.
Sign Release Form Here: t.ly/aeyB
Tip Jar
Tipping is highly encouraged, and heavily appreciated. All tips will be split evenly amongst performers.
PayPal:  paypal.me/lafridalokah
Audience Code of Conduct
All Attendees MUST sign the age release form. You will not get the link to the show otherwise.
While we would enjoy seeing smiling faces, we ask that all non-performers mics be off through the duration of the panel & performance.
All audience commentary and communication will be allowed in chat only.
Refrain from the use of abusive language or behavior. This includes but is not limited to language and behavior that is: racist, sexist, misogynist, transphobic, homophobic, body shaming, ableist, xenophobic, classist, or violent.
Refrain from violence or threats of violence.
Refer to all performers exclusively by their stage name, and not their legal name, unless you have been given specific consent to do otherwise.  This includes online, print, and in person.
Although the ownership of photos and videos varies  based upon contractual terms, Performers' ownership of their image as their brand should be respected.
Recording and screenshots of the panel and performances are strictly prohibited.
When in doubt, ask for CONSENT. In this community CONSENT IS KEY.
Show Description
A live Q&A Panel with performers will precede the show
The show will include pre-taped performances, with live elements
Live elements include: Live hosting and introductions by La Frida Lokah, audience participation will be heavily encouraged, host will be interacting with audience
Audience participation in Zoom meeting will be limited to live chat only. Audience members will be allowed to have their cameras on.
Schedule Breakdown
Q&A panel about Burlesque: 30 Minutes
Burlesque Show: 1 hour (w/ intermission)
Participants
La Frida Lokah
Ginger Fatale
Jessabelle Thunder
Tito Bonito
Valentine L'amour
Bea Vicious
La Frida Lokah (host)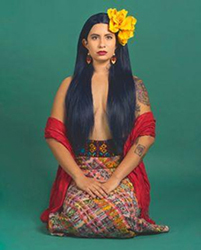 She's into superstitions, black cats and voodoo dolls, but she has plenty more ways to make you fall. After dancing and teaching professionally for just under a decade, Frida began her burlesque career 3 years ago with the Dirty Little Secrets Burlesque. It is with her signature candle tricks and odes to her spirituality; she earned the title, "The Patron Saint of Getting it On." She was then promoted to choreographer, lending her skills to multiple productions. Now, Frida is a free agent. Ready to steal your heart like a bandit in the night. You'll want to take your clothes off and go dancing in the rain. But be careful, once you've had a taste of Frida, you'll never be the same.
@lafridalokah
https://linktr.ee/lafridalokah
Ginger Fatale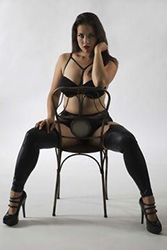 Ginger Fatale (she/her) has been performing, choreographing, and teaching burlesque for the past 14 years, most notably with the Dirty Little Secrets Burlesque troupe in Southern California. Ginger has found her place in the dance world that embraces body positivity, empowerment, and inclusivity — as well as exploration! Ginger loves diving into stories and turning them into shows with their own spin of comedy and sensuality. Her heart truly lies in teaching burlesque classes and helping others find comfort in their own skin through moving their bodies and finding their own brand of sensuality.
@gingler_fatale
Tito Bonito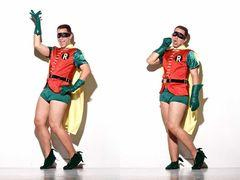 Tito Bonito is an international and award-winning burlesque performer, host, instructor, and producer. Since his debut in Chicago around late 2010, Tito moved to Los Angeles in 2012 and has been a notable fixture in the scene since. Winning awards such as being listed as one of LA Weekly's People of 2016 and awarded "Most Comedic" at the Burlesque Hall of Fame in 2017. He has also appeared in various forms of media including music videos, magazine features, web series (Entanglement, You're So Talented) and television (Epix, NBC, Playboy, Naked News). Tito also has taught several of his courses at the world's largest burlesque education convention, BurlyCon. Tito was also ranked in the 21st Century Burlesque's Top 50 Figures of 2019. Currently, he hosts The Tito Bonito Show every Monday on Instagram Live.
@cubanmissilecrisis
titobonito.com
Jessabelle Thunder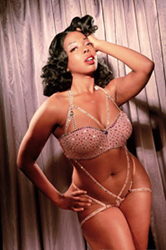 Jessabelle Thunder has been dancing across many a stages since 2009. She captivates audiences with not only her moves but the joy and passion that radiates from her as she glides across the stage. With just a wink of the eye and a powerful hip thrust to the side, she's got you hooked. Jessabelle recently took the stage at Burlesque Hall of Fame 2018 and won 1st runner up, Miss Exotic World and was ranked in the Burlesque Top 20 in 2019.
Her other accolades include, being a cast member of Tease if You Please, one of LA's biggest burlesque shows, performing with Miss Dita Von Teese herself as part of her Strip Strip Hooray show and her Von Follies Show and being a headliner in many festivals. An international performer, she is the 8th and 9th world wonder — Jessabelle Thunder!
@jessthndr
jessabellethunder.com/links
Bea Vicious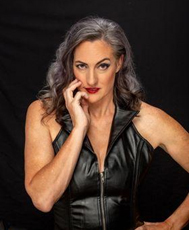 Bea Vicious (she/her) has been performing for the better part of a decade with the Dirty Little Secrets Burlesque troupe. From the first moment on stage she has had a deep love affair with the art. Bea has a passion for the ability to bring a variety of characters to the stage. She loves the ability to become anyone from Deadpool to Littlefinger and the devil herself.
@viciouslybeaing
Valentine L'amour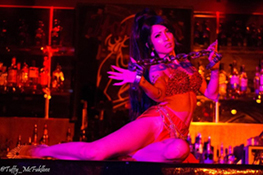 Miss Valentine L'amour has been dancing since the age of 3, with a focus on Belly dance & folk dance. She moved overseas where dance classes were not easily available at the time as women who danced were frowned upon. She proceeded to learn from other locals in "secret", before briefly moving to the U.A.E. and training with a dance company to perform in front of the Royal Family for Global Day. She moved back to California in 2006, and continued her classical training along with belly dance, and began performing in LGBTQ+ circles in West Hollywood. Throughout this time she has performed and continues to perform for events and causes important to her, has spoken at colleges and workshops, participated in a variety of outreach and leadership initiatives, as well as having directed, and headed dance programs.
Miss Valentine has also had the pleasure of modeling for commercial, promotional, glamour and print projects and campaigns. This miss keeps herself busy during the day as a Manager of a Digital Marketing team in Orange County.
@msvalentinexox
Panel: Cosplay Burlesque Revue
Time

Saturday, November 21
9PM – 10:30PM
Panel

"Cosplay Burlesque Revue"
hosted by La Frida Lokah