Panel Description
Learn about the East West Players, the nation's premier Asian American theatre committed to raising the visibility of the Asian American experience by presenting inventive world-class theatrical productions, developing artists of color, and providing impactful youth education programs.
The panel will also highlight the great talents of James Hong and Deedee Magno Hall. Each have extensive acting credits. James will be receiving a star on the Hollywood Walk of Fame in 2022. Deedee most currently the voice of "Emissary" on Netflix's new animation, Trese.
Come and see Deedee Magno Hall, James Hong, Jade Cagalawan, and Andy Lowe during the PMX Charity Livestream on Twitch at 2PM on Saturday, July 17.
About Deedee Magno Hall

Voice of "Pearl" on Cartoon Network's award winning animated series, Steven Universe & currently voice of "Emissary" on Netflix's new animation, Trese.
Theater credits: "Kim" Miss Saigon (Broadway, 2nd US National & Asian Tours), "Nessarose" Wicked (1st US National Tour), "Diana" Next To Normal (East West Players), If/Then (Broadway & US National Tour),
TV & Film: Original cast of Disney Channel's "All New Mickey Mouse Club", Goliath, Greys Anatomy, Third Watch, Dellaventura, Rear Window, Face, Sister Act 2.
Recordings: 4 albums with Hollywood Record's pop group, "The Party" & co-founder of mommy singing group, "Mama Bares".
Happy wife & mommy of 2, grateful to God for family, friends & the opportunity to do what I love!
About James Hong

An American character actor, producer and director who has been working in American media since the 1950s.
He became known to audiences through numerous appearances on the original Hawaii Five-O, roles in films, such as Chinatown (1974), Airplane! (1980), Hannibal Chew in Blade Runner (1982), David Lo Pan in Big Trouble in Little China (1986), Jeff Wong in Wayne's World 2 (1993), Master Hong in Balls of Fury (2007), and Jerry Chen in R.I.P.D. (2013). As a voice actor, Hong voiced Chi-Fu in Mulan (1998), Daolon Wong on the animated television series Jackie Chan Adventures (2002–2004) and Mr. Ping in the Kung Fu Panda media franchise, in addition to several video game roles including Sleeping Dogs and Call of Duty: Black Ops II (both 2012). Hong also voiced several characters in Avatar: The Last Airbender. With over 600 film and television credits, he is one of the most prolific English-speaking actors of all time.
He also helped establish the East West Players, the longest continuously running theatre of color in the United States, to increase Asian American representation in the industry. James will also be receiving a star on the Hollywood Walk of Fame in 2022.
About Jade Cagalawan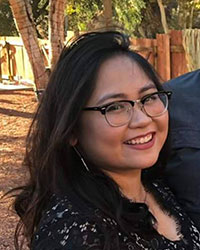 A Los Angeles native and the current Arts Education and Professional Enrichment Programs Manager for East West Players. Prior to EWP, she was a union stage manager, who has worked with theatre companies such as Geffen Playhouse, East West Players, and A Noise Within. While freelancing, she also worked as an Adjunct Lecturer and Production Manager for her Alma Mater, Cal Poly Pomona, where she enjoyed mentoring and teaching students about stage management and post-graduation advice. In 2019 she decided to switch from stage managing to fully pursue a career in arts administration at East West Players. There she develops a professional development curriculum for early-to-mid-career professionals, and oversees youth programming, including the Theatre for Youth tour. She received her Bachelor of Arts in Theatre from Cal Poly Pomona, and an MFA in Stage Management along with a Graduate Certificate in Higher Education from the University of Nevada, Las Vegas.
About Andy Lowe

A 1994 Young Playwrights finalist at the Old Globe, Andy was the Founding Artistic Director of San Diego's Asian American Repertory Theater for 10 seasons '95-'05. A Program Coordinator at La Jolla Playhouse '07-'12. Currently the Director of Production & Casting for the East West Players for the last 8 Years
With over 50 productions under his belt over the past 25 years as a Director and or Producer, Andy has helmed Classic AA Dramas such as Fresh off the Boat & Golden Child by David Henry Hwang, Cleveland Raining by Sung Rno, Original new works like Dear Miss Breed by Joanne Oppenheim, The Goddess of Flowers by Thelma Virata de Castro, and irreverent pop culture musicals like 2011's Dr Horrible's Sing Along Blog which introduced him to an international audience and a feature in American Theatre Magazine.
When he's not Casting and producing EWP's season productions, He continues to Freelance as an acting coach, director of plays, musicals, experience design & immersive entertainment for Disney Imagineering, Cultural Consultant for Dreamworks Animation, A Puppeteer and Fight Choreographer (2019 Ovation Nominee for Man of God @ EWP).
You can also find him on The Geekish Network (twitch.tv/geekishnetwork) where he hosts Pod Squadron, a Star Wars Podcast, and PanGeekery a Geek news and pop culture podcast.
Panel Details
The panel will be streamed live on Twitch at 2PM on Saturday, July 17, 2021. Questions will be accepted during the livestream through chat.
Industry Panel: East West Players

Time

Saturday, July 17
2PM – 3PM
Industry Panel

East West Players
with Deedee Magno Hall, James Hong, Jade Cagalawan, and Andy Lowe