Panel Description
Celebrating creativity despite the pandemic, Kaede Kimonos and Oh My SAI present a mini fashion show featuring vintage kimonos paired with fun and functional masks! Aside from sharing behind the scenes experience in putting together the show, the panelists will talk about how their brands have coped during the COVID19 pandemic. At the end of the panel, two auction winners will get to choose their very own Oh My SAI mask sets!
Come and see Cyril Lumboy, Nami Takagi Rodman, and Beari King during the PMX Charity Livestream on Twitch at 3PM on Saturday, July 17.
About Cyril Lumboy

Cyril is a self-taught fashion designer and seamstress with over 10 years of experience. She has guested in several local and international anime conventions with her indie brand, Dolldelight. When the pandemic hit, she was working as a lab technician for the Cinema, TV, and Radio Department in Saddleback College. It was also during this time that she rediscovered her passion in sewing, as now reflected in her fashionable yet functional handmade masks via Oh My SAI.
Socials: @dolldelight @ohmysai
About Nami Takagi Rodman

Nami was born and raised in Tokyo Japan and is the Senior Kimono Stylist and Dressing Instructor at Kaede Kimonos in Manhattan NYC.
Nami moved to the United States to pursue studying art in 2011. She is an experienced fashion and kimono stylist who has good taste of color coordination. Driven by her work at Kaede Kimonos, she takes pride in providing the best kimono dressing and color coordination service possible. As a licensed kimono stylist, her goal is to contribute in strengthening the cultural bridge between Japan and the United States and to support conventional art businesses.
Socials: @kaedenyc @kaedekimonos @namikimonony
Note: Kaede Kimonos will be represented by Charlie Drizzle.
About Beari King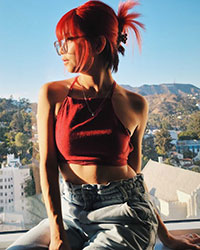 A girl with a fiery red hair & heart to match. Been working as PR & Social Media Coordinator for It's Strangely Compelling Multimedia and Community Management for Rocket Panda Games. I have a background in event organization in the SoCal anime industry and help start a events and organizations.
Socials:
twitter.com/burbeari
instagram.com/nesobeari
Panel Details
The panel will be streamed live on Twitch at 3PM on Saturday, July 17, 2021. Questions will be accepted during the livestream through chat.
Industry Panel: Creativity During the Pandemic

Time

Saturday, July 17
3PM – 4PM
Industry Panel

Creativity During the Pandemic
with Cyril Lumboy, Nami Takagi Rodman, and Beari King