Panel Description
Tattoo artist Kevin Guanio Flores will be discussing the history of Filipino tatak, a traditional style of tattoo, and also be sharing his artwork. He will also talk about how he started his journey into tattooing and his goal to help keep this tattoo tradition alive. Kevin will also take questions about the history of tattoos in the pre-colonial Filipino culture.
Come and see Kevin Guanio Flores during the PMX Charity Livestream on Twitch at 6PM on Saturday, July 17.
About Kevin Guanio Flores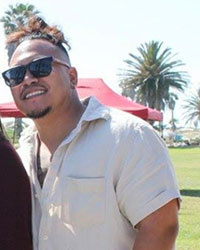 Kevin is the director of physical training for a rehabilitation clinic and also a tatak/tatau artist based in Ventura County. He specializes in contemporary Filipino and Polynesian tattoos. His goal is to help keep the Filipino culture alive through art and educating people about their pre-colonial history.
Social: https://www.instagram.com/painted0nes/
Panel Details
The panel will be streamed live on Twitch at 6PM on Saturday, July 17, 2021. Questions will be accepted during the livestream through chat.
Cultural Panel: Painted Ones

Time

Saturday, July 17
6PM – 7PM
Cultural Panel

Painted Ones
with Kevin Guanio Flores
[av_horizontal_gallery ids='7050,7051,7054,7049,7053′ height='25' size='large' gap='large' active='enlarge' initial=" control_layout='av-control-default' links='active' link_dest=" lightbox_text=" lazy_loading='disabled' id=" custom_class=" av_uid='av-2jv4d4′][/av_horizontal_gallery]