Panel Description
Sensei Biseki Iwakura will discuss the history of, the tools involved, and the different types of strokes in Japanese Calligraphy – Shodo. Sensei Iwakura will also give basic instruction and a demonstration.
Come and learn about Japanese Calligraphy during the PMX Charity Livestream on Twitch at 1PM on Saturday, July 17.
About Biseki Iwakura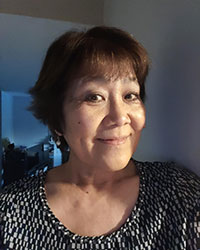 Biseki Iwakura is a native from Japan before moving to California in 1978. She has taught at the Orange County Japanese School for 23 years and has retired this June. She also has been teaching Shigin-traditional Japanese Singing-for 15 years as well.
She followed in her father's footsteps to become a calligrapher. He used to write hundreds of New Year's cards each year, and she wanted to learn how to write as elegantly as he did since she was 20.
In calligraphy, you try to copy the characters as precisely as possible. Biseki Iwakura's teacher always says: "Great calligraphers never care about what kind of papers or ink or brushes they use." She says that she could tell about the writer's personality when she sees his writing.
Although her Calligraphy teacher is 96 years old now, she still has a great memory, retains her wit, and stays very energetic. Ms. Iwakura wishes some of her luck would rub off on her.
Panel Details
The panel will be streamed live on Twitch at 1PM on Saturday, July 17, 2021. Questions will be accepted during the livestream through chat.
Cultural Panel: Japanese Calligraphy

Time

Saturday, July 17
1PM – 2PM
Cultural Panel

Japanese Calligraphy
with Biseki Iwakura
[av_horizontal_gallery ids='7293,7294,7295,7296,7297,7298,7299′ height='25' size='large' gap='large' active='enlarge' initial=" control_layout='av-control-default' links='active' link_dest=" lightbox_text=" lazy_loading='disabled' id=" custom_class=" av_uid='av-2jv4d4′][/av_horizontal_gallery]