Panel Description
Come join the conversation as our panel of AAPI industry professionals share their thoughts about working in the animation industry. We will delve into how they got their start, and their experiences as AAPI people working in the industry.
Come and see Grace Young, Jacqueline Sheng, and Janice Kubo during the PMX Charity Livestream on Twitch at 8PM on Saturday, July 17.
About Grace Young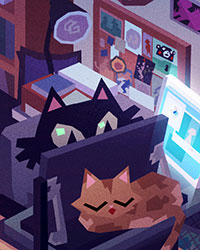 Grace Young is a Los Angeles based artist in the animation industry. She's worked as a Background Painter and Designer for studios like Disney TV Animation, Warner Brothers Animation, Nickelodeon Animation Studios, Titmouse Inc., ShadowMachine, Adult Swim, and more.
Website:
gracepyoung.com
About Jacqueline Sheng

Jacqueline Sheng has been working in animation for about 8 years. She has worked at Marvel, Cartoon Network, Warner Brothers, Starburns Industries, Green Portal Productions and is now a Line Producer at Nickelodeon (it's her second time at Nick)!
Socials:
Twitter: @glazedhamz
About Janice Kubo

Born in Japan and raised here in Southern California, art/drawing was something I wanted to do since I was 3 years old!
Credits:
Cartoon Network: Foster's Home for Imaginary Friends
Nick Jr/ Starz: Wow! Wow! Wubbzy!
Disney TV: Wander Over Yonder, Star vs the Forces of Evil S1, Billy Dilly, Big City Greens
WB Animation: DCSHG 2019.
Netflix: Kid Cosmic, and the Unannounced Show!! 😉 (shhhh!)
Social Media:
Instagram: @janicekuboart
Panel Details
The panel will be streamed live on Twitch at 8PM on Saturday, July 17, 2021. Questions will be accepted during the livestream through chat.
Industry Panel: AAPI In Animation

Time

Saturday, July 17
8PM – 9PM
Industry Panel

AAPI In Animation
with Grace Young, Jacqueline Sheng, and Janice Kubo