Panel Description
Join and watch these actors in a table read of the script "Dealing Dreams" featuring Jennifer Kim, Dustin Vuong Nguyen, KitDeZolt, and Jenni Wu.
Come and see the table read during the PMX Charity Livestream on Twitch at 5PM on Saturday, July 17.
Jennifer Kim playing Zoe

My name is Jennifer Kim. I am a recent graduate of Penn Law, where I was lucky enough to be Co-President of APALSA (American Pacific Asian Law Student Association). Prior to that, I studied Philosophy and Politics at Pomona College. In these difficult Covid times, my ray of happiness has been the opportunity to participate in virtual acting gigs in faraway locations.
Jenni Wu playing Norah

Jenni Wu is a toddler mom, actress, and producer who also decided to pick up voice acting and writing during #quarantine2020. She works hard every day to improve herself and her art and loves every opportunity to explore herself through the eyes of different characters.
Socials:
Instagram.com/jenniwulu
Twitter.com/jenniwulu
Kit DeZolt playing Steve Grier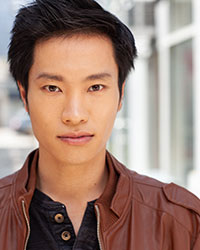 Kit DeZolt has acted in Hulu's TV pilot Citizen (Jie), Eric Stoltz's Confessions of a Teenage Jesus Jerk (Kien) on Amazon Prime, Moon Manor (Nox), Boy Luck Club (JJ Lai) on Tubi, Jack Henry Robbins' VHYes!( Dash), HBO Max's Veneno (English dubbed Chenta and Joaquin), ABC's To Tell The Truth (Imposter), TruTV's South Beach Tow (Kip), HBO Max's Generation, and various indie films. Kit graduated Summa Cum Laude from Loyola Marymount University.
Socials:
IG: @Kit_DeZolt
Dustin Vuong Nguyen playing Trey

Website: dustinvuongnguyen.com
Twitter: @dustinVnguyen
Instagram: @dustinvuongnguyen
TikTok: @dustinvuongnguyen
Panel Details
The panel will be streamed live on Twitch at 5PM on Saturday, July 17, 2021. Questions will be accepted during the livestream through chat.
Table Read: "Dealing Dreams"

Time

Saturday, July 17
5PM – 6PM
Table Read

"Dealing Dreams"
with Jennifer Kim, Dustin Vuong Nguyen, KitDeZolt, and Jenni Wu