Panel Description
Join and watch these actors in a table read of the script "Interstellar" featuring Juliette Lin, Artemis Snow, Elaine Wang, Jenni Wu, Charles Baker, and Jason X. Moua.
Come and see the table read during the PMX Charity Livestream on Twitch at 12PM on Saturday, July 17.
Elaine Wang playing Jaina Vess/Crew#2

Elaine Wang has been in a variety of projects from stage to screen to VO and loves challenging, yet definitive work. In addition to acting, Elaine is also a 2x Pushcart Prize Nominee in Poetry and a Kundiman fellow.
Socials:
Twitter: @theelainewrites
Linktree: https://linktr.ee/theelainewang
Jenni Wu playing Vella Altuin

Jenni Wu is a toddler mom, actress, and producer who also decided to pick up voice acting and writing during #quarantine2020. She works hard every day to improve herself and her art and loves every opportunity to explore herself through the eyes of different characters.
Socials:
Instagram.com/jenniwulu
Twitter.com/jenniwulu
Juliette Lin playing Sunday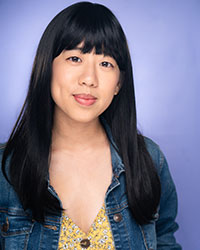 Juliette Lin is an actor based in Los Angeles, California. In August, she will be starring as Margot in Vice, a science fiction play that explores the devastation and hope within imagined futures, and ultimately asks: How can you survive when you have been programmed out of existence? How can you reach someone who's vice is a reality where you do not exist? When she's not acting, you can find her hosting The Privilege Podcast, volunteering through School on Wheels and The Wayfarer Foundation, and reading 10 different books at a time.
Socials:
@juliettetlin https://www.instagram.com/juliettetlin/
@theprivilegepodcast https://instagram.com/theprivilegepodcast
Artemis Snow playing Refugee/Max Lavoie

Artemis Snow is a SAG-AFTRA actor, voice over artist, and athlete. Calling NY home and LA based, her work can be found internationally on major networks like Disney, Universal, and Fox, and at prestigious film festivals. She recently brought Elisa Lam's words to life with Emmy award winning Joe Berlinger on the #1 hit Netflix series, The Vanishing at the Cecil Hotel. An avid world traveler (35 countries and counting), Artemis speaks English, Cantonese, Mandarin, and French and is a black belt martial artist and aerialist. She also enjoys filmmaking, entrepreneurial pursuits, and supports endeavors that add light and love to this world especially in areas of philanthropy, environmental sustainability, and female empowerment.
Socials:
IG: @thenextadventure
Twitter: @helloartemisnow
Jason X. Moua playing Crew #1/Computer

Jason X. Moua is a first generation Hmong-American California native turned New Yorker. He is the youngest of nine children and utilizes that aspect of his upbringing to craft a unique and individualistic point of view. He is a hardcore A24 film stan and is heavily influenced by filmmakers Xavier Dolan and Luca Guadagnino, drawing inspiration from their very surreal environment of creating a universe within the reality that moviegoers already live in versus launching moviergoers to a reality foreign to themselves. In Jason's spare time, he likes to play the guitar, jog, and cook dishes that typically get topped with loads of cilantro.
Socials:
IG: @jasonxmoua
Charles Baker playing Firaldi

Charlie is am actor born in the UK, now residing in London. His favourite film is Whiplash; due to him being a drummer in school, and it just being a darn great film. He creates/learns in many other mediums, currently in VR making a short film.
Socials:
IG: @chachabakes
Twitter: @chachabakes
Panel Details
The panel will be streamed live on Twitch at 12PM on Saturday, July 17, 2021. Questions will be accepted during the livestream through chat.
Table Read: "Interstellar"

Time

Saturday, July 17
12PM – 1PM
Table Read

"Interstellar"
with Juliette Lin, Artemis Snow, Elaine Wang, Jenni Wu, Charles Baker, and Jason X. Moua