Panel Description
Join and watch these actors in a table read of the script "Wild Adventure In 5D!" featuring Bryan Ha, Victor Zheng, Linh Bui, Hester Jean Lee, and Sara Matsui Colby.
Come and see the table read during the PMX Charity Livestream on Twitch at 7PM on Saturday, July 17.
Hester Jean Lee playing Gabby

Hester Jean Lee is an actor and writer living in Los Angeles. Completing her BA in Theatre at the Claire Trevor School of the Arts, she continued her studies at Upright Citizens Brigade and Howard Fine Acting Studio. You can hear Hester's voice on the series Extracurricular, currently streaming on Netflix. When Hester isn't writing, you can catch her roller skating with her dog Ruckus.
Socials:
Instagram: @hesterjeanlee
Twitter: @hesterjeanlee
Linh Bui playing Anna

Linh Bui was born and raised in Rochester, Minnesota to Vietnamese immigrant parents. She is new to Los Angeles and is working as an actor and hobby screenwriter. She just wrapped on an indie series pilot episode called Baby Girls that is currently in post production.
Socials:
Instagram: @lynnbuoy
Victor Zheng playing Frank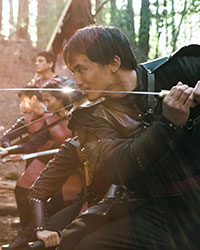 Victor Zheng is a Chinese American actor who is from Fairfax County, Virginia. He graduated with a double major in Chinese and History from the University of Virginia. Besides acting, Victor has worked as a translator, teacher, consultant, media manager, and independent journalist. He has published pieces that articulate the experiences of the Chinese American cultural dynamic and has commented on various political issues.
As an actor, he has participated in projects in China and the United States. He has been cast in online programs, reality shows, and has been called onto the sets of iconic shows such as Grey's Anatomy, Superstore, and more. He is currently working on the movie, "What if", directed by Billy Porter.
Socials:
Instagram: @teamavatarfilms
YouTube: @teamavatarfilms
Sara Matsui Colby playing Angry/ICE/Security

Bryan Ha playing Oliver
Panel Details
The panel will be streamed live on Twitch at 7PM on Saturday, July 17, 2021. Questions will be accepted during the livestream through chat.
Table Read: "Wild Adventure In 5D!"

Time

Saturday, July 17
7PM – 8PM
Table Read

"Wild Adventure In 5D!"
with Bryan Ha, Victor Zheng, Linh Bui, Hester Jean Lee, and Sara Matsui Colby